Pakistani Social Entrepreneurship Academy (P-SEA), a project of Al-Sharif Foundation is on the mission to train 1 online social entrepreneurs throughout the Pakistan so they too can support themselves and their families.  Online entrepreneurship training is provided to students who qualify and earn 100% tuition scholarship.  For more please visit P-SEA website.
Future Plans-School for Special Children
It has been the earnest endeavor of Al-Sharif Foundation to dedicate to help the underprivileged segment of our society irrespective of religion, caste and sect and for this purpose it has been undertaking activities / projects indicated above. The foundation assures its commitment to continue developing even more innovative and critically needed programs to help the Poor, Orphans and Special Children.
Al-Sharif Foundation has already arranged a piece of land measuring 7 (seven) acres to develop a school for special children including deaf where not only necessary educational facilities shall be made available but arrangements shall also be made for the treatment, accommodation and clothing of the special children.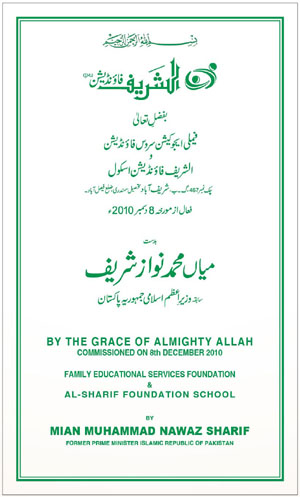 For this noble cause, the Foundation has planned to engage a team of committed, qualified and experienced teachers, who will take extra car of each and every individual student, imparting education in a very friendly manner. The main aim of education is to instill in them confidence and broaden their outlook, so that they can withstand the vagaries of life. For this purpose, Al-Sharif Foundation is approaching local and foreign donors as the project involves huge funds.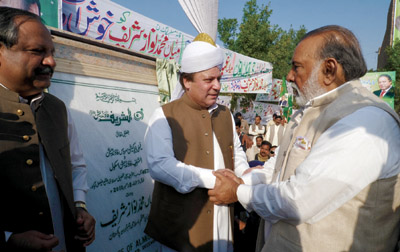 Former Prime Minister Islamic Republic of Pakistan inauguration Al-Sharif Foundation School
Negotiations with Family Education Service Foundation
With the purpose to seek collaboration from local and foreign organizations, Al-Sharif Foundation invited a delegation of Family Education Service Foundation at the inaugural ceremony of Al-Sharif Foundation School and had detailed negotiations with them at Sharifabad, Samundari. Family Education Service Foundation has assured Al-Sharif Foundation of its maximum possible support and cooperation for the school of special-needs children.
Negotiations are also underway with other local and foreign donors for attracting funds for the activities and projects of Al-Sharif Foundation.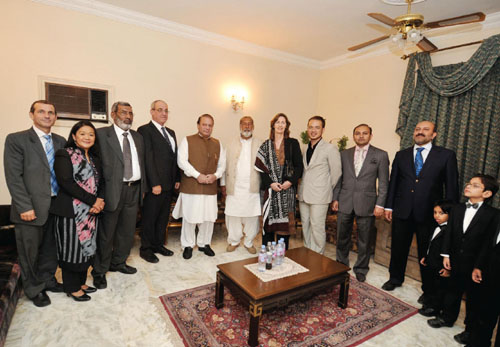 Former Prime Minister of Islamic Republic of Pakistan with delegation of Family Education Service Foundation at the inaugural ceremony of Al-Sharif Foundation School at Samundari, District, Faisalabad.